If you're looking for the best PayPal alternatives for freelancer payments, we've got just compiled a list for you.
Are you a freelancer? Definitely searching for a payment platform to receive payments from international clients and in the end, you are stuck on Paypal which does not work efficiently. Paypal is a trendy payment gateway as it helps you to receive and send payments internationally. But there are some issues that every freelancer faces via using PayPal.
See the best PayPal alternatives for freelancer payments that make your freelancing journey more hassle-free.
Here you can find the best options to pay your freelancer expenses with PayPal. Compare and choose the best one for your needs. Before knowing other alternatives to PayPal let's understand why to switch other alternatives.
How to Get Your First Client on Upwork (Expert Method🔥)
Why you should consider using PayPal alternatives?
Nowadays there are so many payment gateways launched every day but most of them charge high transaction charges for transferring payments across the border. If you are an experienced freelance with 6-figure earning potential you can afford any charge but beginner freelancers can't afford high-charged payment gateways so, in the end, they choose PayPal as their payment gateways.
If you are thinking PayPal is the cheaper payment option then you are wrong there are other alternatives available which is far cheaper or even free as compared to PayPal.
Paypal is very popular and used worldwide but now the time changed. Now freelancers not only need a payment app but they need something where they keep their payments without any risks.
Here are some reasons why you should consider using the best PayPal alternatives for freelancer payments with something amazing payment options that we discussed further in the article.
● Paypal provides limited usage facilities.
● Suspend account anytime even without any prior notice.
● Downgrade customer service
● If you have any issue in your PayPal account it leads to freezing all your PayPal funds.
● High tax reduction.
Which freelancing websites are best for beginners?
10 Best PayPal Alternatives For Freelancer Payments

● Established in 2011
● Founded by Kaarmann & Hinrikus
Wise is the most widely used payment gateway, especially among freelancers. With the help of this payment option, you can easily send and receive payments globally.
It is generally based on London financial technology enterprise or company which is discovered by Karmann and Hinrikus. For beginner freelancers, this is one of the best payment processing options as you can create your free account on wise and use it accordingly. Apart from their desktop version you can also install their application and use this from your smartphone.
After registering on the wise payment portal you have to wait 1 to 3 days to get a fully activated perceptive account as the concerned wise authority takes some time to verify your details.
What benefits do you get using Wise?
There are so many benefits –
● Operate your money transaction from anywhere
● Less or Zero transaction fees
● Highly secure gateway to payment operations
● There is no hidden charge as you can check every detail clearly
● Send & receive payment in any currency without any restrictions.
Which freelancing websites are best for beginners?
● Established in 2005
● Founded by Yuval Tal
Many peoples confuse with their name as they think that PayPal is Payoneer but it's a separate payment gateway. Payoneer is another widely used payment gateway option and is most popular among freelancers. It is mostly used by small businesses, freelancers, and contractors to receive and send payments internationally.
This payment gateway is based on American financial services which provide money transfer-related payment services. If you are a new freelancer, especially on any freelancing sites like Fiverr, etc. you can easily release your payments via Payoneer.
For this, you first have to create your Payoneer account and send a payment application or request to your customer/ client. When the client saw your payment request they accept and pay the payment via the attached link. All the payments are received in your Payoneer account which you can withdraw easily.
What benefits do you get using Payoneer?
There are so many benefits –
● No upper transfer limit
● Provide currency conversion option
● It supports many freelancing platforms – Fiverr, Airbnb, Upwork, and many other companies.
● Transfer in any currency
● No hidden charges while transferring from one Payoneer to another Payoneer account.
How to find work as a freelancer?
● Established in 2001
● Founded by Philip McHugh
Skrill is another best PayPal alternative for freelancer payments as their payment gateway is used by businesses and freelancers to receive and send any payment around the globe. Skrill provides hassle-free payment options to receive and send payments to anyone anytime. Apart from this, you can also link your bank account details to your skrill account it will help you to pay in an easy way. This is UK based payment gateway whose headquarter is situated in London.
Features & Benefits you get –
● Provide prepaid card
● Their e-wallet option provides customers to keep all their payments.
● Secure in all round
● 100% Reliable in use
● Full customer support
If you are too conscious regarding your personal details during any payment processing you can think about using skrill as they keep hidden all the recipient's personal details in order to protect from any kind of information breach or fraud which makes it among the best PayPal alternatives for freelancer payments.
You can also download its app from the play store for your anywhere usability.
Top 13 Most In-Demand Skills for freelancing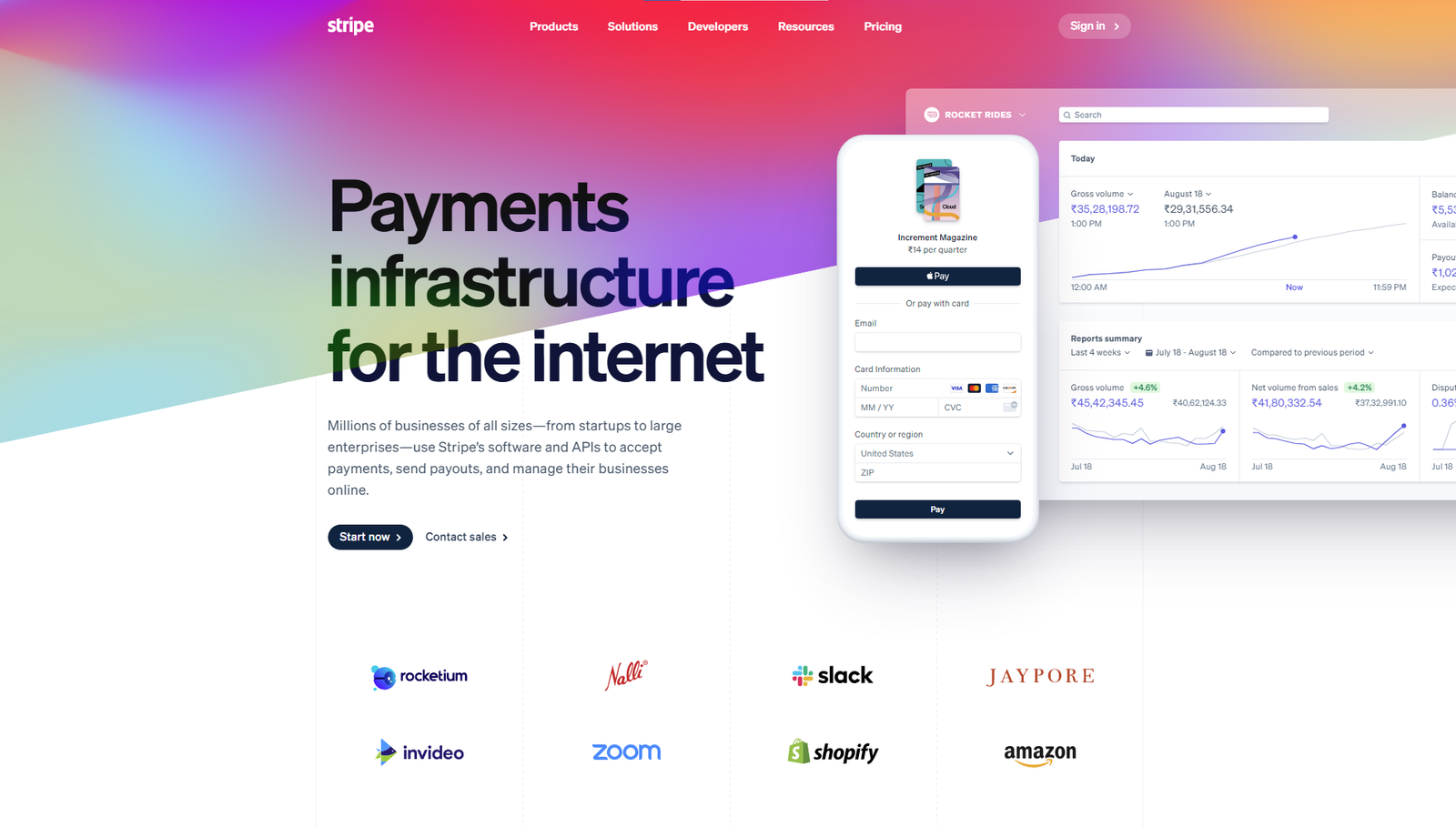 ● Established in 2010
● Founded by Patrick & Collison
Stripe is another reliable payment option for freelancers. Based in the USA, Stripe is a popular payment gateway and operates in 130 countries. It offers a variety of payment options and can integrate with web stores and e-commerce websites. If you have an ECommerce store or you just start your startup and search for customized payment options. You should go with Stripe. As their payment infrastructure is vast effective than any other payment gateway.
If we talk about the price of using stripe, it would be 2.9% and 30 cents per credit card, which is not too much compared to other payment options. But if you are a beginner freelancer you can skip using it and think the move to the next payment option.
● Easy-to-use payment dashboard
● Quick account set-up
● Safe & secure payment transfer
The company also offers free account setup and does not charge monthly fees or monthly setup fees. However, some freelancers find Stripe difficult to integrate with their own websites. Apart from this they also provide some customized packages for businesses or entrepreneurs.
Top 14 Part-Time Jobs Online That You Should Know In 2022
2Checkout – best PayPal alternatives for freelancer payments
● Established in 2006
● Founded by Alan Homewood
If you are looking for a payment option, particularly for eCommerce business you should go with 2checkout. As it is a little bit expensive payment gateway as compared to other options but in-built with all needs that suit your eCommerce business.
● With the help of 2checkout, you can accept payments from any online credit card globally as it works in around 200 countries.
● 2checkout supported around 45 payment methods
● Full customer support as they have 80+ offices at the global level
● Accept payments globally
● In-built with a subscription tool that you can use to connect with your client or customers.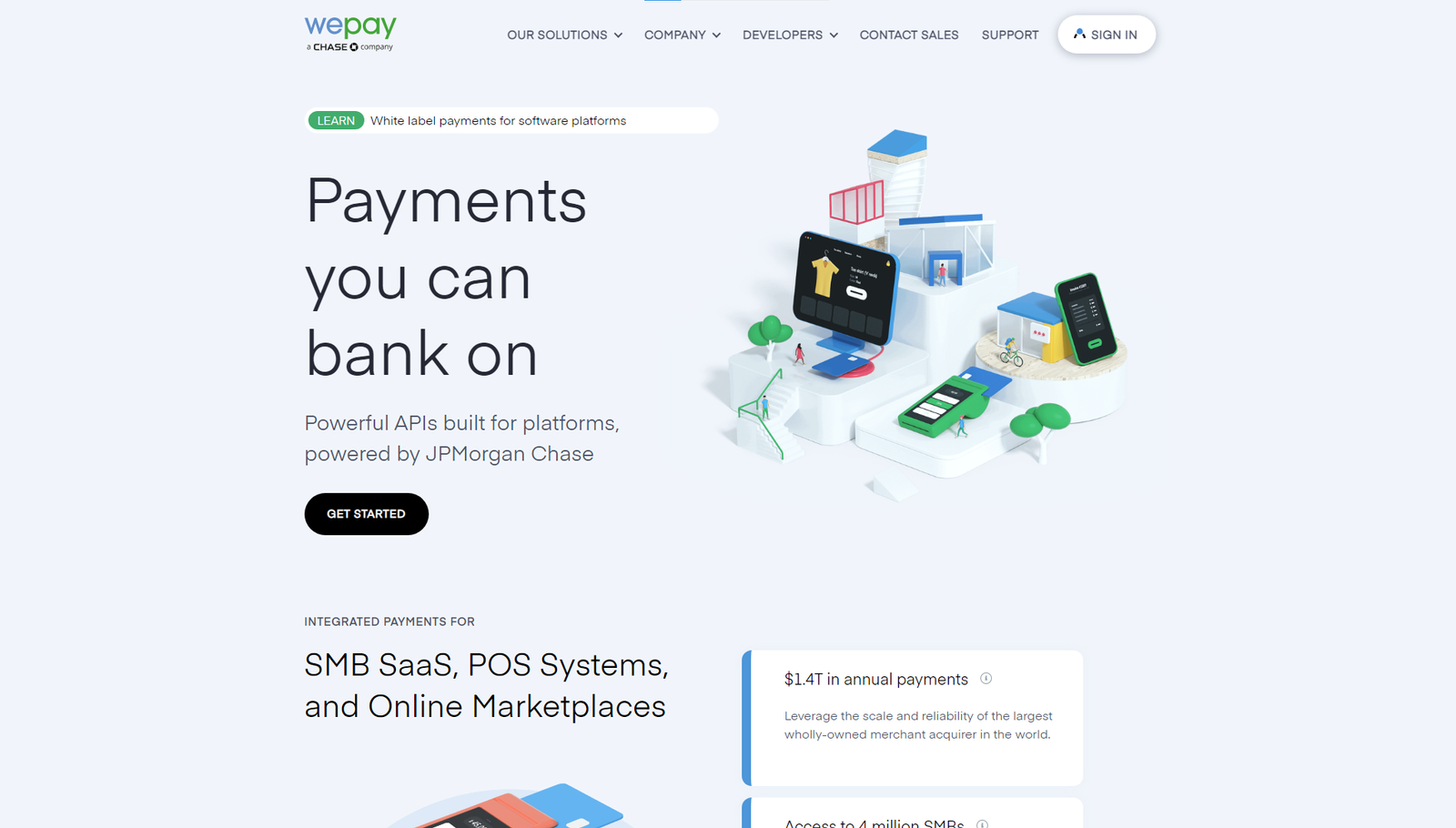 ● Established in 2008
● Founded By JP Morgan Chase
WePay is another best PayPal alternative for freelancer payments as their online payment gateway is very efficiently created for payment services. If you are a beginner freelance and don't have enough money to pay extra charges or transaction fees this is a useful option for you. This payment service provider is best for small businesses and freelancers.
The biggest drawback of using WePay is its low weekly limit this is the reason it is not good for entrepreneurs or experienced freelancers.
Notable benefits & features
There are some benefits of using WePay over other payment service providers –
● Full compatibility with any smartphone like Apple Pay
● $10,000 weekly transaction limit
● Debit and credit processing
● Tokenization
● Secure bank transfer
● More customized options
● Payment is done within a second
● Easy-to-use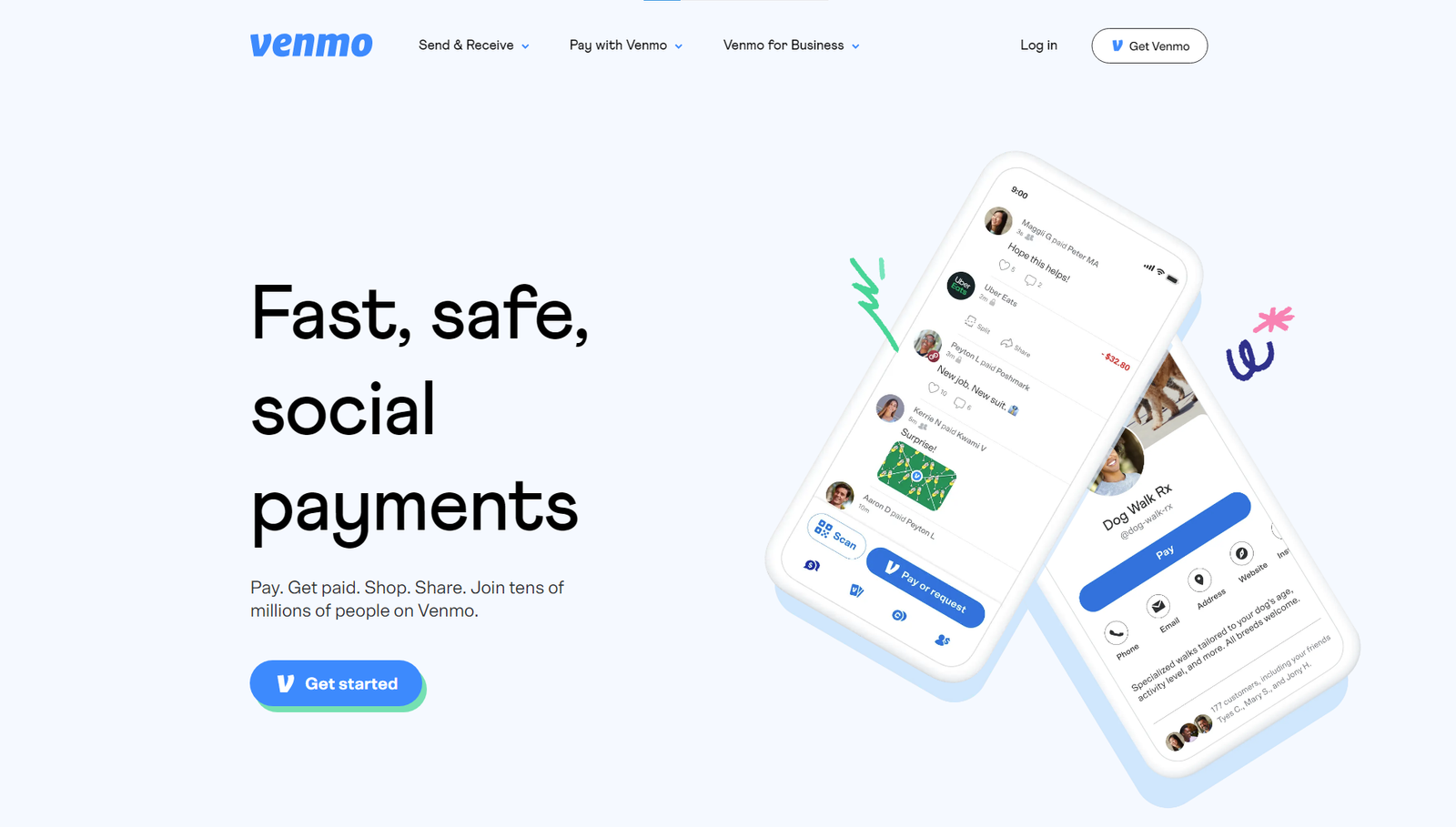 ● Established in 2009
● Founded by Kortina & Magdon-Ismail
Venmo is another alternative to PayPal. This payment platform is the most popular and among the best Paypal alternatives for freelancer payments because it has a low fee per swipe, at 1.9% + 10C. Venmo is also free to use and allows you to send and receive payments directly from your Venmo account. This is more than just a payment gateway as you can pay in many different forms, for example, if you want to appreciate your relative or friend you can pay their bills or offer them lunch via Venmo. You can also use this payment option for all your shopping needs.
Notable benefits & features
● Secure payment transfers
● Mobile access
● Hassle-free online payment options
● Analytics for all your payment processing
● Transact history
● Data synchronization
● Full customer support
It is easy to sign up and uses email and Facebook as your login. You can also connect your bank account or credit card to your Venmo account. This gives you easy access to your money, allowing you to withdraw it whenever you want.
As a freelancer you need a payment gateway with less or no transaction fee, Venmo is best suited for all your freelancing needs.
QuickBooks – best PayPal alternatives for freelancer payments
If you are searching for something additional with a payment gateway you should think about using QuickBooks as this is all-in-one business software that helps you to manage all things along with payment processing.
This is office-suit accounting software that assists you to maintain all your account details like budgeting, daily expenses, profits, loss, GST, and bank balance. Apart from this you can also create and manage all the invoices for your business deals.
You can connect all your bank account details with QuickBooks and use this accounting software to make transactions. There are 3 important steps you need to follow in order to use this as a payment gateway –
● Connect bank with QuickBooks
● Review all your done transactions
● Calculate profits
Notable benefits & features
● Accounting
● Banking operations like sending & receiving payments
● Employee reports
● Manage all your taxes
● Invoicing
● Expenses management
If you are running your freelance business you should definitely consider using this software.
Bitcoin
● Founded in 2009
● Founded by Satoshi Nakamoto
Cryptocurrencies like bitcoin are the trendiest and best PayPal alternatives for freelancer payments as this is a more convenient and reliable way. The best thing about this gateway option is you can send & receive money from anywhere around the globe without paying extra transaction costs. Usually, banks transact some amount during transfer payments but in form of bitcoin, you don't need to pay any penny.
Now the point is what will be the use of bitcoin?
Suppose you just received payment in form of bitcoin you can use this payment for shopping purposes or you can convert the bitcoin amount into local currency using bitcoin exchange.
Notable benefits & features
● No transaction fee
● Easy to transfer
● Safe & secure
● Most reliable
● Transfer instantly
● Established in 1997
● Founded by Gary Goodrich
ProPay is among the best for new startup businesses as they enable businesses to receive and send payments easily. It also accepts all payments from debit and credit cards.
Notable benefits & features
● 0% monthly charges
● Customized portal for online payments
● Access from anywhere
● Generate payment invoices and send payment links to the clients or your customers.
● Save your cards securely
Conclusion
Offering multiple payment methods is also a good idea for freelancers in the above post we described some of the best Paypal alternatives for freelancer payments. Not only will this give you more flexibility when it comes to accepting payments from clients, but it will also give you peace of mind. Some clients may prefer paying by credit card while others may prefer an online payment gateway. Offering a range of payment options will also help you expand your freelance business.
If you have any queries or questions about this article message – Contact Us