Freelancing is a type of self-employment in which people offer their skills flexibly to various clients. Freelancers, sometimes known as "contractors," are not permanent employees of any organization and may work independently for many companies or clients simultaneously. 
Freelance jobs allow for more flexible work arrangements, including remote work, and may assist company owners in organizing their schedules, workload, and revenue. Their profession determines a freelancer's job. 
MUST READ – How to Get Your First Client on Upwork (Expert Method🔥)
However, many different skills and sectors use freelancers daily.
 If you've decided to hunt for freelance work, you may need to take a different strategy than job seekers seeking more conventional roles.
A freelance profession may be the answer for those who appreciate total control over their careers or want a massive variety in their work days.
Suppose you are searching for a way to find freelance work. In this article, we will look at how to find a job as a freelancer and some tips and tricks to help you find work as a freelancer.
MUST READ – Top 13 Most In-Demand Skills for freelancing
How to find work as a freelancer
The bottom line is that freelancing is becoming more popular. Let's talk about how to find freelance work and the best ways to find freelance work. 
Use Social Media platforms.
Facebook, LinkedIn, and other social media platforms can provide excellent opportunities to use social media in your freelance job hunt. 
The vast majority of businesses now use social media to identify temporary employees. 
If that's where the recruiting managers are, it stands to reason that you should be there as well.
Use and search for the terms relating to your desired role, such as "freelance teaching" or "freelance software developer," to search these social networking sites.
 You may also list what types of roles you're looking for in your feed to help recruiters identify you and enable connections to help you.
Use freelancing websites.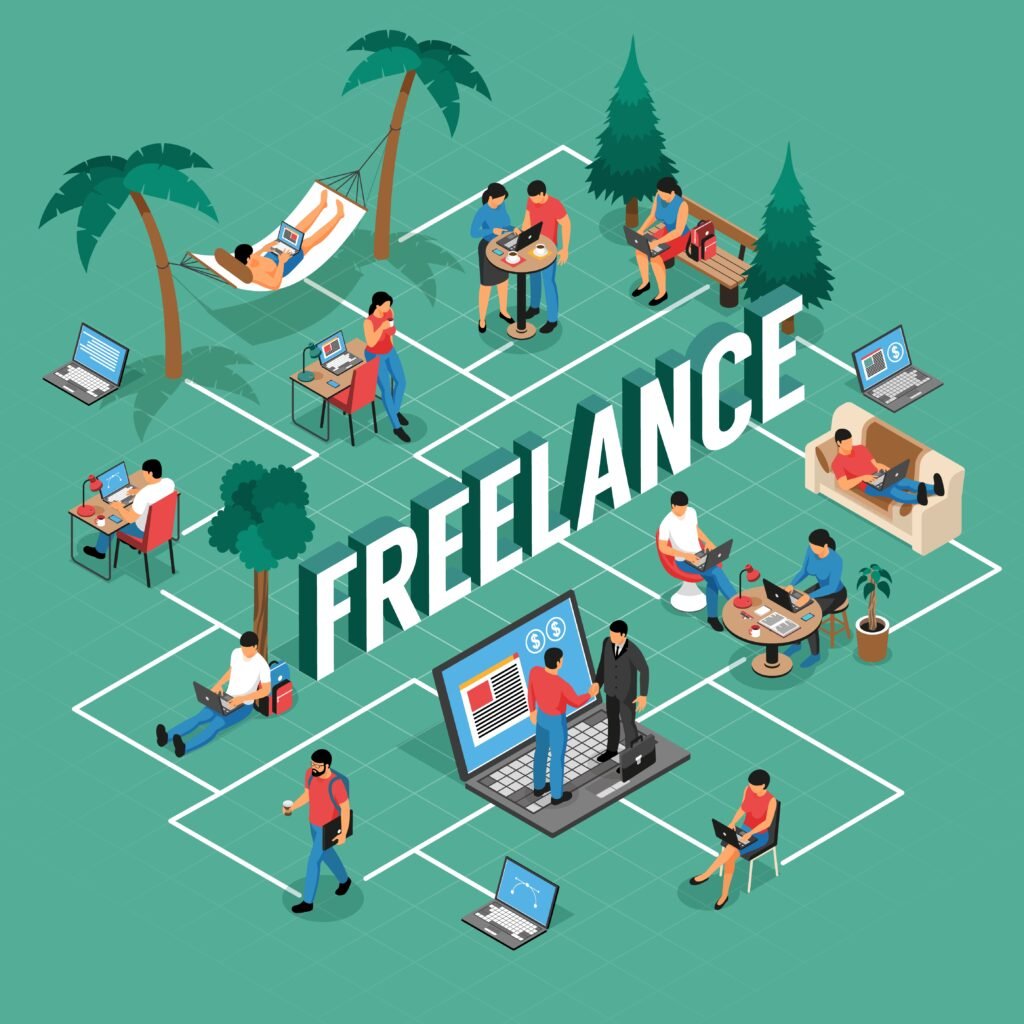 Several online platforms and freelancing sites are devoted to linking freelancers with clients to facilitate collaboration.
 There are top freelancing sites and freelance platforms,  such as 
Fiverr

Toptal

Freelancer.com

People Per Hour

LinkedIn
 Many of them need you to create an online profile and a bio, so have a brief biography on hand to copy and paste into your profile on freelancing sites and other platforms.
 Aside from using these platforms to get work, you may also be able to take short courses or participate in webinars. 
You may also collaborate with other freelancers who are working in similar fields to you. They may be able to refer business to you if they are too busy.
MUST READ – Which freelancing websites are best for beginners?
Make direct contact with businesses.
Cold calling or emailing may not seem like much fun, but if done correctly, it can be a great way to meet new people and perhaps find work.
Agencies, in particular, are frequently on the hunt for freelancers, so it's best to contact them directly to see if you can help them and get freelance work. 
You can start with nearby businesses since this allows you to arrange a meeting if you receive a response from them.
But instead of sending the same email to all of them, do some research and customize your email for the agency you're approaching.
 Determine the name of the person in charge of hiring freelancers and address them by name.
Include your resume and a few samples of your work, and consider running a special offer (such as a low introductory rate). 
Please keep track of who you've contacted, when, and what you've offered. Check that you have the proper permits to reach individuals and that your outreach does not violate GDPR.
Of course, it's not only agencies that hire freelancers, so if there are any organizations you'd want to work with in particular, why not see if they'd be interested in your services?
 Remember to tell them how much you appreciate them; flattery may get you everywhere.
Word-of-mouth recommendations
Don't ever underestimate the power of word of mouth. Please email any business connections you have to let them know you're open to employment.
 Even if they can't help you right away, they may want to save your information or send it to someone who does.
The same is true for connecting with other freelancers; someone who is too busy or not quite the perfect fit for a job may be able to pass it on to you, and you can give it back when things become hectic in the future (don't worry, they will!).
When you advertise that you're available for freelance work, you may be astonished by how many potential clients start crawling out of the woodwork from among your friends and friends.
Share your website on your own Facebook profile, along with a personal note requesting your friends to let you know if they know anybody searching for a freelancer in your field.
Set your post settings to 'public' so they can spread it, and you can appear in friends' news feeds when they like your post.
Once you've started getting employment, it's worth encouraging satisfied customers to spread the word regarding your services.
Word-of-mouth is accessible as a line in an email suggesting, "do feel free to pass on my information if you know anyone who might need my services,"
or you could go a bit further and consider establishing a referral system to promote word-of-mouth referrals.
For example, you may provide a small initial discount to the recommended individual and a value off the following work for the client who referred you.
Request client testimonials.
Finally, when you begin bringing in business, you should perform a fantastic job for your clients. 
If they're pleased with what you've done for them, ask them to give you a LinkedIn testimonial. 
Other prospective customers may notice their suggestions and want to contact them.
Please make the most of any LinkedIn testimonials by copying and pasting them into your website, which can help bring it to life with comments from genuine happy clients. 
It's an effective strategy to gain the confidence of potential clients.
Your work will begin to grow naturally as your website becomes more visible in search engines and your client list expands.
It won't be long before your issue isn't 'how do I get work?' but 'how can I fit all of this work in?'
Look for opportunities on Google.
The appropriate Google searches can be highly beneficial when finding freelance work in your field. 
A search for '"write for us" UK' gets several writing jobs in India for a copywriter like myself. 
In contrast, searching for 'designers required' provides graphic designers and artists opportunities.
Here are some pointers for an effective strategy while searching for prospective freelancing work on Google:
Make your approach unique—don't send the same email to everyone. 
You'll have a higher chance if you browse over their website and create something that demonstrates why you'd be a good match for them especially.
Prepare a CV and samples of your work—make sure your CV is up to date and focused on your experience for the kind of freelancing employment you're looking for.
 Prospective clients will almost certainly want to see examples of your work, so anticipate this by including several samples in your approach email.
 It would be even better if you could share samples of your work that are relevant to the organization you're contacting.
Be unique—is there any way you can distinguish yourself from the crowd? For example, 
if you're a freelance designer, you can attract the right person's attention more quickly by mailing them a postcard with your artwork.
You may not hear back from everyone you contact, but you never know—even those who do not respond may have saved your website for future reference.
Conclusion
Attracting and retaining clients is perhaps the most challenging aspect of creating a profitable freelancing business that many freelancers can relate to.
However, with the appropriate techniques and tools in place, you can establish the freelancing business of your dreams (and get the freedom and flexibility you want).
Is it a quick process? Heck no. But everything worthwhile is worth the effort. And if you have a constant stream of clients coming your way,
 you'll realize that all of your hard work was well worth it.
Which of these freelancing work tips are you unfamiliar with?
Which one are you most eager to implement?
Please let me know in the comments section below.
Freelancing
What is freelancing? – Click Here
Which freelancing websites are best for beginners? – Click Here
How to find work as a freelancer? – Click here
How to Get Your First Client on Upwork (Expert Method🔥) – Click here
If you have any queries or questions about this article message – Contact Us